TAKEAWAY: Project & portfolio management (PPM) has come along well in recent times, primarily by IT in the course of building business-IT relations. In some cases this PPM discipline can be viable to strengthen the enterprise.
Kudos to the IT community for putting new structure and discipline around project & portfolio management (PPM). Not only does PPM present the opportunity to build business-IT relations and alignment, PPM can be used to inject all manner of goodness into business capabilities and performance at large.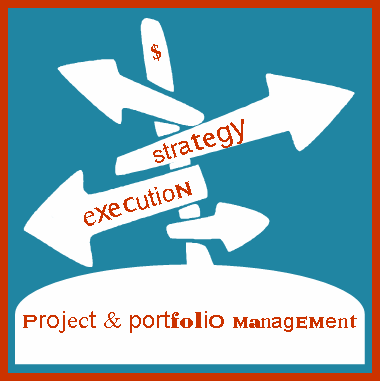 PPM sits at the junction between the business architecture and the underlying business model – the performance crossroad. A progressive adoption of PPM can be a gatekeeper, reinforcing positive change and behaviors. Approach it as  IT or IT governance only and you might be missing some attractive opportunities.
PPM is typically adopted to promote transparency and understanding in terms of how IT is to be developed and deployed in support of business objectives. The basics include things you might expect or use within a program management office (PMO), addressing such as project criteria and prioritization, funding allocation and appropriation, and deliverable specification (and satisfaction) in context of business requirements. PPM brings some formalization to business-IT interactive processes and gets everybody on their toes.This typical application of PPM can help keep a spot light on the chronic worry of IT spending, the percentage spent on sustain versus new development, etc. Importantly, it also helps protect against the usual reasons IT projects don't live up to their expectations.
Then one day there can be an epiphany. PPM is really working well as relates to the IT projects and portfolio. So why can't this structure and efficiency be applied to the corporation's wider interests, to all the classes of projects and the associated investment portfolio? Is there existing redundancy, and if so, is it really needed and can it be afforded?
Consider that many projects are undertaken to establish new capabilities. And when it comes to establishing those capabilities in business operations, the business-IT fusion has to be there. And this fusion is much more flowing and probable and effective if it has been established and in evidence from the top down.
The suggestion is that PPM can grow beyond IT in scope and benefits. To do so it has to be a dynamic exchange characterized by good communications and structured control. Artfully executed, stronger business-IT fusion can begin to creep in, and the PMO function is elevated to the enterprise. This could bring it to the point where all things are more aligned, and where there is less tendency for "shadow IT".
While the benefits of progressive PPM can be seen on a project basis, benefits can go up and some forms of complexity can go down when the discipline is applied to the enterprise portfolio. By doing planning and prioritization in one spot, it can foster an atmosphere of trust and ownership, and facilitates good cross-functional learning. PPM can become a center of knowledge and expertise, providing an excellent forum to drive to common terminology and practices, such as lean. Positioned and defined this way, PPM can be used to deliberately manage change. It can be used as the company's focal point for definition of key processes and their associated key performance indicators (KPIs), and merged with process automation.
Business-IT integration is always going to happen in some fashion. PPM, especially when applied as an enterprise enabler, just makes it more predictable and productive. PPM might start for IT oriented purposes, but can be extended for wider business interests. PPM as suggested might be one of those crawl-walk-run propositions, probably starting with a rigorous self-examination that assumes a willingness to take on some challenging realities.