TAKEAWAY: BPM has demonstrated mixed success and continues to  get attention.  Many see BPM playing a central role in handling the ongoing data explosion, facilitating business transformations, and enabling performance in the context of increasing complexity.
Business process management (BPM) has been around long enough that there are lessons-learned, best practices, and improvements to the tool sets themselves. BPM tools are sometimes packaged as a suite (BPMS) and are often referenced as a providing a BPM platform. Progressive BPM casts a wide shadow.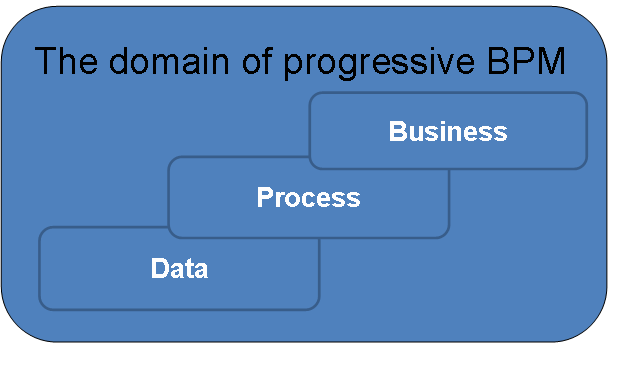 BPM in its current form is directly embedded with the management of the business, and the underlying processes and data.  Not everyone will be able to accept such an influential view. It's implications are far reaching. In fact there is an emerging BPM maturity model which can, for those who respect process and are ready to improve, provide insights into each of these managed elements and the associated at-large capabilities that can be achieved. It seems that, in the end, BPM will be tightly related to the fundamental industry-shaping mega-shift away from transaction based client-server systems toward big data and the cloud. In the brave new world, it might very well be that you cannot optimize without BPM, that big data might not be actionable without it (with more likelihood that those actions will be strong analytics and event handling). BPM is here to stay; it is increasing adopted and refined by leaders.